The Honourable Charles D. Gonthier, C.C., Q.C.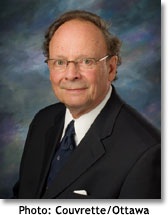 Mr. Gonthier was Communications Security Establishment Commissioner from August 1, 2006 to July 16, 2009.
Born in Montréal, Québec on August 1, 1928, Mr. Gonthier studied at Collège Stanislas in Montréal (baccalauréat Paris) and holds a B.C.L. from McGill University. He was called to the Québec Bar in 1952, and practiced law in Montreal with Hackett, Mulvena & Laverty, 1952-57; and with Hugessen, Macklair, Chisholm, Smith and Davis, later known as Laing, Weldon, Courtois, Clarkson, Parsons, Gonthier & Tétrault, 1957-74, until his appointment to the Québec Superior Court. In 1988, Mr. Gonthier was appointed to the Québec Court of Appeal and in 1989 to the Supreme Court of Canada, where he served until his retirement in 2003.
In addition to his professional activities, Mr. Gonthier has been active in the Bar, notably as president of the Junior Bar Association of Montréal and president of the Junior Bar Section of the Canadian Bar Association. He has also played an active role in many judiciary bodies, such as President of the Canadian Institute for the Administration of Justice, President of the Canadian Judges' Conference and founding representative for the Supreme Court of Canada to l'Association des cours constitutionnelles ayant en partage l'usage du français and l'Association des hautes juridictions de cassation des pays ayant en partage l'usage du français.
In recent years, Mr. Gonthier has had a special interest in Environmental and Sustainable Development Law and participated in a number of international conferences. He has also been the recipient of several honorary degrees and titles.
Mr. Gonthier was counsel at McCarthy Tétrault in Montréal. He is also Chair of the Board of Governors of the Centre for International Sustainable Development Law at the Law Faculty of McGill University, where he is the Wainwright Senior Research Fellow. He was named a Companion of the Order of Canada on June 29, 2007.
Justice Gonthier passed away while still serving as Commissioner, on July 17, 2009. See In Memoriam note on the site.
Date modified: