Honourable Peter deCarteret Cory, C.C., C.D., Q.C., LLD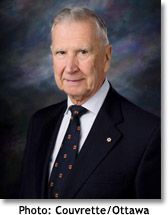 The Honourable Peter Cory was Communications Security Establishment Commissioner from December 14, 2009 to March 31, 2010.
Mr. Cory was a puisne judge of the Supreme Court of Canada, appointed on February 1st, 1989 and retired on June 1, 1999. He was appointed to the Supreme Court of Ontario in 1974 and to the Ontario Court of Appeal in 1981.  He was an elected bencher of the Law Society of Upper Canada in 1971.  He is a past National Director of the Canadian Bar Association (CBA), past Chairman of the Civil Liberties Section of the CBA, past president of the Advocates' Society, past President of the York Region Law Association and a Senior Advisor to the federal Department of Justice.
Mr. Cory was commissioner for a number of inquiries in Canada, and also headed an inquiry for the British and Irish governments to examine whether there had been collusion by police or government agencies with either the Irish Republican Army or the Loyalist paramilitary in the murder of eight individuals.
Mr. Cory born in Windsor, Ontario in 1925. He served overseas with the Royal Canadian Air Force during 1943-46 as a pilot with 6 Bomber Group.
He received his BA in 1947 from the University of Western Ontario and his LLB in 1950 from Osgoode Hall Law School. Mr. Cory practised law in Toronto with Holden, Murdoch, and was appointed Queen`s Counsel in 1963.
Mr. Cory served as Chancellor of York University from 2004 to 2008 and was subsequently appointed an Honorary Member of the Board of Governors.
For his contribution to the legal field and his service to the public, Mr. Cory was made a Companion of the Order of Canada in 2002.
Date modified: